MegaYacht Party in Dubai
A Dubai yacht party is for everyone from those new to Dubai.  Those looking for new way to make friends, or maybe you have family or friends in town.
Maybe you just haven't yet had the chance to really explore all of the fantastic things to do and see in one of the most luxurious cities in the world.   
And, you may not have even heard about one of the best value VIP experiences on offer in Dubai, some of the amazing Yacht Parties. 
If you're the kind of person who enjoys an exclusive event.  Want to feel like an ultra VIP individual?  Well then the only decision you have to make is whether to book your yacht party on a Friday or a Saturday.
If a VIP luxury yacht party doesn't quite ring your bell, maybe you'd prefer terra-firma beneath your feet. 
Check out our Fantastic Desert Experiences. Or if you're inclined towards the sea and are a bit of an adrenaline junkie you could read The Best Watersport Activities in Dubai For Thrill Seekers.
So, What Is a Yacht Party?
If you boil it down to its very simplest terms, a Dubai Yacht Party is where you can purchase a ticket to get onboard a luxury mega yacht for a few hours.  With a choice of all-inclusive packages that will cover your food and drink while you party on a mega yacht. 
This is essentially a party brunch on the sea.  You'll be treated to a high-quality luxury yacht, usually decked out swimming pools and jacuzzis.  A party deck with an incredibly talented onboard DJ, sun loungers, buffet and, of course, an amazingly well-stocked bar.

Dubai Skyline
Your yacht party will take you on a tour around the coasts of Dubai.  Giving you views of some of the most iconic parts of Dubai.  From Palm Jumeirah and the world's most luxury and only seven-star hotel, the Burj Al Arab.
Are you the kind of person who's always on the lookout for something to beef up their Instagram story?  A yacht party's mixture of scenic views and party atmosphere might just be the thing to make all your follower's back home incredibly jealous.
How Much Does A Yacht Party Cost?
Everybody loves a good bargain and there's nothing better than getting something excellent value and having an absolutely smashing day out for an affordable price, don't you think?  And you're in luck when it comes to a VIP yacht party.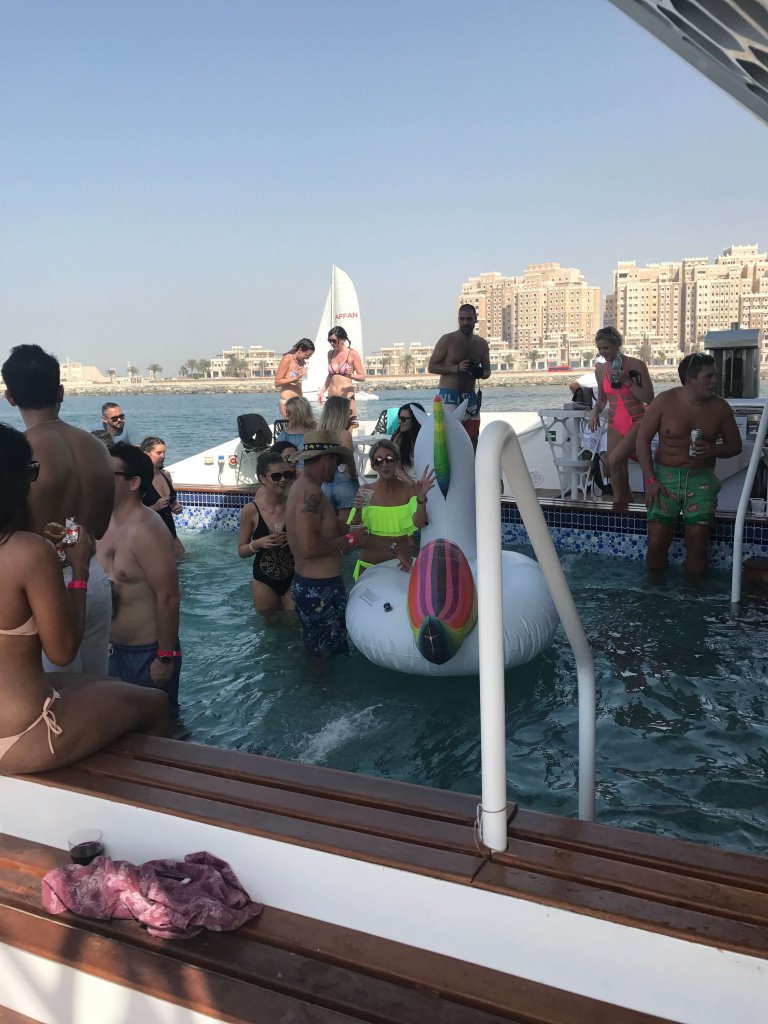 With a yacht party, you're usually offered a selection of packages which would best suit what kind of party you'd like to have while onboard.  Some of the options are as follows:
Food and Soft Drinks: from 199 AED.  This package will give you unlimited access to the buffet as well as soft drinks, perfect for The Designated Driver and The Sensible One.
All Inclusive Food and Beverages:  from 350 AED.  This package gives you unlimited access to the buffet, soft drinks and, of course, all of the house beverages you can expect to be stocked at the bar. Ideal for The Party Animal and The Fun Lovers.
VIP Package:  from 499 AED.  This is the ultimate VIP luxury package.  Feel like royalty while you're onboard with a reserved table (including butler service).  Unlimited food, soft drinks, house beverages and access to the premium stuff as well as access to the jacuzzi.  The VIP Package is perfect for The Lover of Luxury and The VIP.
How Do I Book My Yacht Party?
Easy, you can head over to FSW Events now and browse the collection of Dubai Yacht Parties to see what is on offer or if you know what you want. You can book directly at either Friday Mega Yacht Party or Saturday Mega Yacht Party.